Ideal Match
Ideal Match is designed to help you place the right person in the right position based upon the degree of fit between their behavioural tendencies and aspirations and those defined by you for the position.
Our standard product assesses against a carefully selected set of workplace behaviours which have been proven to have high levels of validity and reliability over hundreds of cases. These behaviours are assessed by capturing the candidate's responses to bi-polar choices in a range of contexts (see the section on 'Our Approach' for more detail). Our bi-polar choices are: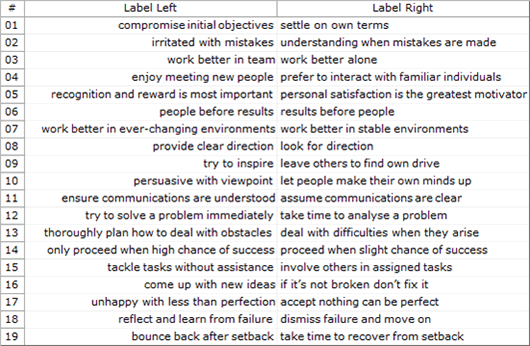 Ideal Match uses two key parameters to calculate a % match with your position. The first is a self-profile provided by the respondent in the context of how they see themselves behaving in the present time. The second is a self-profile which indicates their personal aspirations, 'how they would wish to be' rather than 'how they are now'. Both these sets of responses are then matched against a profile developed for your position to provide a 'recruitment match' and a 'retention match'.
Ideal Match is a group report - it presents the results for a number of candidates, ranked in order of fit. A sample report can be downloaded from the resources section to the top right of this page.
Additional information can be provided on each individual respondent in the form of a Ideal Match+ report. This report uses wider aspects of the response data to present a number of key insights into the individual.
Click here for more information on the Ideal Match+ report.