Firstly, we recommend that you request and complete an on-line trial!
Sitting an instrument will give you a much better flavour of how our analysis process works than any description can! To request a trial, click here.
Each of our products consists of two key elements, the first is the on-line instrument that we use to capture the individual inputs and the second is the report that we use to present meaningful results to the user.
The delivery process is very straightforward:
You, the customer, define the instrument that you want to use (most make use of one of our standard instruments - this is what we would offer to you for a trial)
You issue us with details of the individual(s) to be assessed
We email a weblink, a username and a password to each individual (or provide you with these details if you want to control the email flow)
Once the individual has finished the assessment, our system flags this completion to us and we send a PDF report to you (you have a choice of reports at this stage)
We are always on hand to assist in clarifying any aspect of the reports produced.
When you are using one of our products, you will find that you are evaluating yourself and others on a series of bi-polar scales which are designed to build up a picture of your identity on a number of fronts. We are looking at issues of one's personal identity here that are much wider than 'personality', for example:
How you evaluate yourself in the past, at the moment and in the future, against your ideals
Which of your chosen values and characteristics are most important to you and where might you experience stress on these issues (such as wanting to act one way but finding yourself doing the opposite!)
How you evaluate yourself when under different types of pressure
How you evaluate other types of people when compared to you own value system
Specifically what characteristics you feel you share and do not share with other types of people
How fixed or open your views tend to be in different contexts
What you identify with in other people and whether this represents a positive or negative (potentially stressful) force
This multi-faceted approach is unique to ISA and allows us to present a much deeper and more rounded picture of individual, or group.
A typical screen looks something like this: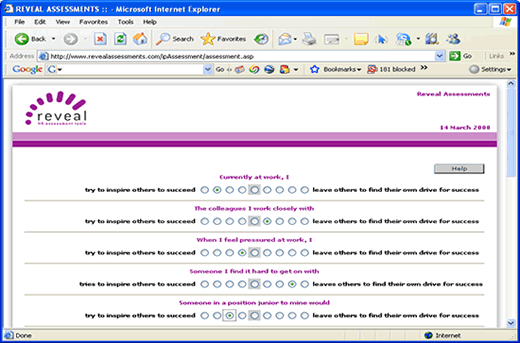 Our software takes all of your responses and uses them to calculate results across a series of measures and these results are then presented back to you in a friendly reporting format. Sample reports for each of our products are available from the menu on the top right of your screen.
For more detail on the specific identity measures analysed by our instruments, please go to the 'Technical Fundamentals' section
The trial instrument that we hope you will want to complete is one of several which have been pre-defined by us for the purpose of having something 'off-the-shelf' that companies can use immediately. The bi-polar choices and the types of people referenced in our instruments can be totally different depending upon the areas that we wish to look at. So, for example, if you had already worked up a set of core characteristics required for a particular role, then we would build an assessment that checked for the candidate's appraisal of themselves against these specific characteristics (expressed as one side of a bi-polar scale).
For us, and you, the ability to prepare a bespoke instrument that looks specifically at characteristics or values that have been defined as important by you or the client is one of our key differentiators in the market. We are not aware of another assessment platform that is so adaptable.
Other USPs that our customers like include:
We are the only source of ISA based assessments in the world
On-line accessibility 24/7
Ease of use
Depth and breadth of analysis
Professional presentation of results (see sample reports)
We offer full branding of assessments, reports and on-line interfaces to the client or partners brand identity
In-depth training is available to three levels, introductory, intermediate and advanced
The product range is adaptable to different uses ranging from recruitment through development, coaching and change management.
One of our other USPs is that our instruments can be applied at individual and group level. At the individual level, the tools are used to recruit, develop and retain. As a development or coaching tool, our individual assessments will demonstrate areas of strength and weakness, insecurities and areas of stress, for example. At the group level, our tools allow feedback from many respondents to be combined to build cultural pictures of whole organisations and any part of the organisation. So we can look for sub-cultures linked to different departments, management levels or time served, for example. See our 'Culture Check' section for more details on group analyses.